First edition "Camino Frances"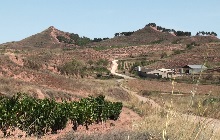 I walked the Camino Frances between the 7th of September and the 7th of October. The Camino Frances is the most popular camino. The total distance was close to 800km.It starts in France, in St.-Jean-Pied-de-Port close to the Spanish border. The most important places on this camino are Pamplona - Logroño - Burgos - León - Astorga - Ponferrada - Sarria - Santiago de Compostela.

De Camino Frances heb ik gewandeld tussen 7 september en 7 oktober 2012. De Camino Frances is de meest populaire camino. De totale afstand bedroeg ongeveer 800km. De Camino Frances start in het Franse St.-Jean-Pied de Port kortbij de Spaanse grens. De belangrijkste steden die deze weg aandoet zijn Pamplona - Logroño - Burgos - León - Astorga - Ponferrada - Sarria - Santiago de Compostela.

read more »
Second edition "Camino del Salvador"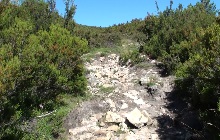 Between Sunday the 28th of July and Saturday the 3th of August 2013, we walked the Camino del Salvador. This camino starts in León. If you are in front of the St.-Marcos building, the camino Frances goes to the left passing the Bernesgo river. At the right side of the St.-Marcos building starts the Camino del Salvador and follows during 2 days the river. This camino goes through Cordillera Cantábrica and ends in Oviedo, 125km from León.

Tussen zondag 28 juli en zaterdag 3 augustus hebben we de Camino del Salvador gewandeld. Deze camino start in León. Wanneer je voor het St.-Marcos gebouw loopt de Camino Frances naar links en steekt de rivier genaamd Bernesgo over. De Camino del Salvador begint aan de rechterkant van het gebouw en volgt de rivier gedurende 2 dagen. De camino dwarst de Cordillera Cantábrica en eindigt in Oviedo, 125 km verwijderd van León.
read more »
Third edition "Through Belgium following the Via Brabantica - GR126 - Via Monastica"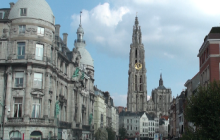 In September and October 2014, I walked through Belgium from the border of Holland, close to Zandvliet till the border of France in Bruly close to Couvin. The walked distance was 369 km and it was done in 14 days. As I live in Belgium, I returned home after each stage with al kind of public transport. A few days later, I went back to the place I finished earlier and started walking the next stage. More info will come soon.

In september en oktober 2014 wandelde ik dwars door België vanaf de Nederlandse grens bij Zandvliet tot de Franse grens in Bruly kortbij Couvin. De afgelegde weg was 369km lang en ik deed er 14 dagen over. Omdat ik in België woon, keerde ik iedere avond terug naar huis met het openbaar vervoer. Een paar dagen later keerde ik terug naar het laatste punt om de volgende etappe af te leggen. Meer info binnenkort.